2015 CRIM 5K Route
The smallest of the three races on Saturday takes it's course to the east of the city than to the west like the 8K and 10 miler.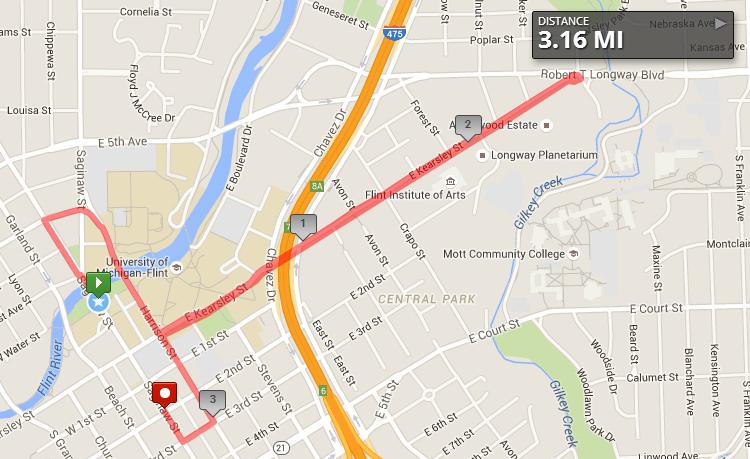 5K Course Elevation

Specific Course Information
Mile #1
A sharp decline for the first .08 distance of the inital mile, going from 742 ft down to 705 ft when reaching 1st Ave.

Then a rise from 705 ft to 726 ft at .25 of the mile, when reaching the intersection of Martin Luther King Ave and turning onto University Ave.

A gentle fall will occur from 727 ft down to 708 at .43 in mile 1, located at the curve onto Harrison St.

An uphill climb from the previous 708 ft up to 737 ft at .51, the climb happens at the intersection of Harrison St. and Kearsley St.

Then a smooth fall & rise of 735 ft to 727 ft, then back up to 744 ft at the .75 mark for the first mile, all on Kearsley St.

Concluded with another fall & climb (744 ft to 733 ft to 749 ft) for the last .25 of the first mile.
Mile #2
Virtual flat mile with 4 small alterations in elevation, all well within 7ft of difference, all on Kearsley St.
Mile #3
First a rise happens, 748 ft to 759 ft, in the first .17 distance of the final mile. This will be the highest point for mile #3.

A downhill slide from 759 ft to 733 ft (26 ft difference) at the .53 mark.

A small 10 ft climb 733 ft to 743 ft at 2.69 mark of the 5K course.

Then a 10 ft slide from 743 ft down to 733 ft when reaching 2.8 miles.

An ascension in the course happens at 3.0 mile mark, from 733 ft up to 756 ft.

For the final .11 of the course, another flat piece of real estate with a minor 1 ft to 2 ft +/- difference until reaching the finish line.