2015 CRIM 8K Route
The second longest race of the day's events, this route takes place on the west part and still works the Bradley hills.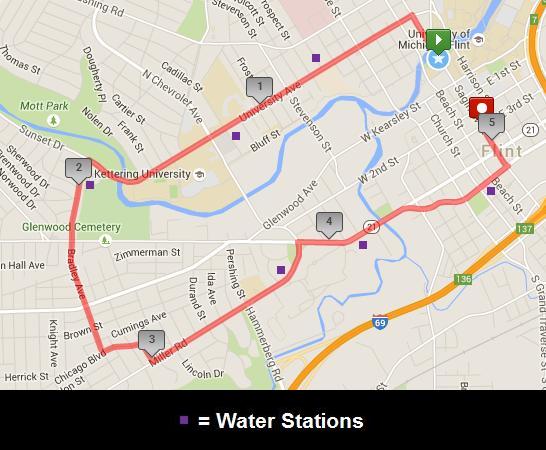 8K Course Elevation

Specific Course Information
Mile #1
The race begins with a slide from 747 ft down to 705 ft in the first .09 of the first mile, all while on Saginaw St.

The course ascends back up to 747 ft when reaching .41 of mile 1, when turning onto University Ave.

A small 12 ft drop down to 735 ft when the course gets to .64, while still being on University Ave.

Then to end mile 1 with a 20 ft climb (from 735 ft to 755 ft), all still on University Ave.
Mile #2
For the first .63 of mle #2, a steady decline from 755 ft all the way down to 705 ft.

Then a swing of 25 ft in elevation over the next .10 (.72 of mile #2), while just passing Kettering University.

Almost another 20 ft spike in elevation, 747 ft, to end mile #2. (Entering Bradley Ave. and beginning the Bradley hills.)
Mile #3
A long and gradual 53 ft climb (reaching 803 ft and the pinnacle of the 8k race) at .54 of the third mile.

A slow decline of 20 ft of elevation to conclude the mile from 803 down to 783, when reaching Chicago Blvd. and then turning onto Miller Rd.
Mile #4
Nice and comfortable 15 ft slide over the first .68 of mile #4 (783 ft down to 768 ft).

Then for the next .13 distance a sudden 15 ft rise (located at 3.81 mile of the course).

Downhill terrain is evident when going from 783 ft down to 771 ft over the last .19 of the forth mile, being on W. Court St.
Mile #5
A fall of 771 ft down to 717 ft at the first third (.31) of the final 5th mile.

Then a climb to 765 ft at .58 of mile #5, going from W. Court St. to W. 5th St.

A gradual 10 ft slide (765 ft to 755 ft) over the last 1/2 mile to end the race, from W. 5th St. to Saginaw St.